"So You Think Times Are Tough!"
By James "Butch" Robbins
****
On November 25, 1968, while searching for an enemy weapons cache
at the edge of a village in South Vietnam, "Butch", who was 19 at the time, stepped on a booby trap.
He lost both legs and his right arm, but not his spirit.
"Butch" rose above the adversity, and has been doing the things he loves best,
farming, owning his own auctioneering business, and speaking to enthusiastic groups all over the United States.
Wherever he travels he tells people,
"be proud of who you are and what you are, and most of all be proud of your country."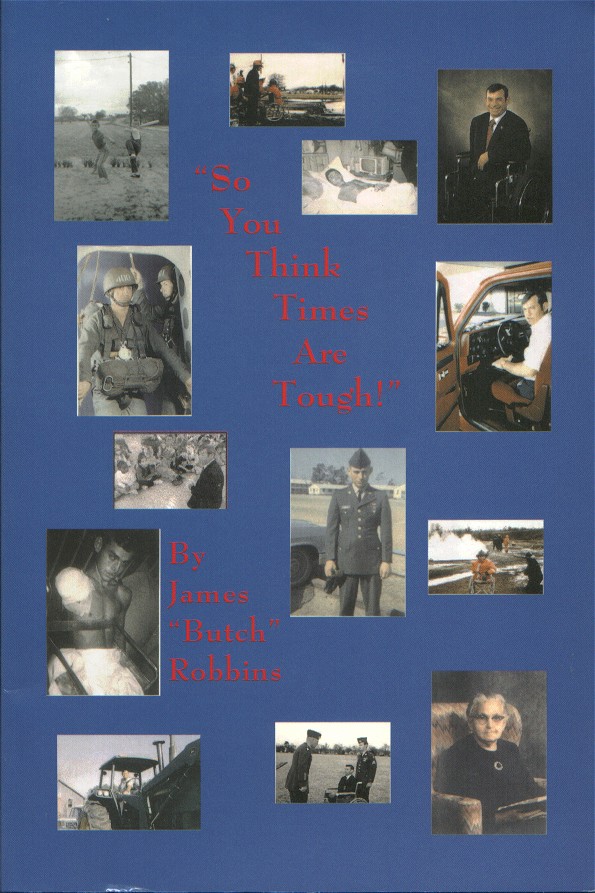 This is an inspiring, true story, written by a 'real life' American hero.
*****
James "Butch" Robbins is also a public speaker, and would be happy to speak for your group.
Contact him about a speaking engagement, or book purchase.

EMAIL: brauction@aol.com
WRITE TO: 292 Hoffer Ave NW, Palm Bay, FL 32907
OR
PHONE: 252-904-1590
To purchase your copy of "So You Think Times Are Tough!" online,
go to: Amazon.com or Target.com
***********